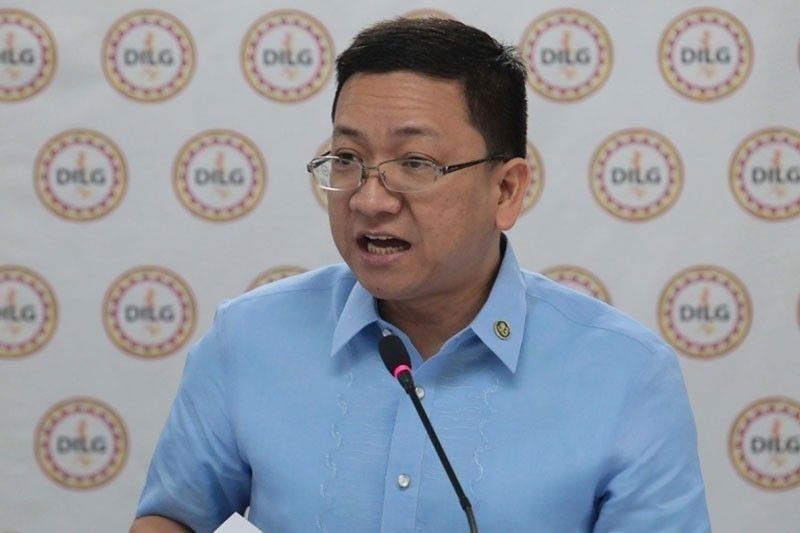 DILG Undersecretary Jonathan Malaya yesterday said they received reports that authorized persons outside of residence were sneaking passengers through the borders for a fee, with transactions done online.
Michael Varcas, file
PNP on alert vs 'COVID-19 smuggling'
MANILA, Philippines — The Department of the Interior and Local Government (DILG) has ordered the Philippine National Police (PNP) to intensify boundary checkpoints following the reported smuggling of people untested for COVID-19 in and out of the National Capital Region (NCR) Plus bubble in trucks and colorum vehicles.
DILG Undersecretary Jonathan Malaya yesterday said they received reports that authorized persons outside of residence were sneaking passengers through the borders for a fee, with transactions done online.
Malaya said they also asked the Department of Transportation (DOTr) and Land Transportation Office (LTO) to crack down on the illegal transport service.
"We coordinated with the DOTr. LTO has an anti-colorum drive. Our police have been given directives by DILG officer-in-charge Bernardo Florece to intensify checkpoint operations," he told reporters.
Malaya said those who take part in the illegal transport service, including passengers, would be held liable for violating health protocols.
"Yes of course the most liable are the transporters: driver, crew and mastermind of this COVID human smuggling," he said.
Random inspections
Cargo vehicles will be randomly inspected by police following reports that COVID-19 untested people are being smuggled into the NCR Plus bubble.
PNP deputy chief for operations Lt. Gen. Cesar Hawthorne Binag directed Highway Patrol Group personnel and police officers manning quarantine checkpoints to inspect commercial vehicles which might be carrying unauthorized persons who want to enter Metro Manila and the provinces of the Bulacan, Cavite, Laguna and Rizal.
Cargo vehicles are exempted from inspection under the government's guidelines to guarantee the unhampered movement of essential commodities.
But Binag said they have no choice as this policy has been abused by unscrupulous individuals.
He appealed for public understanding as there could be delays in the transportation of goods, adding this is necessary due to the incidents of human smuggling.
Binag also ordered the Anti-Cybercrime Group to monitor social media accounts which are being used by individuals or groups to transact with people planning to enter the NCR Plus illegally.
He urged the public not to patronize these illegal transport services, which he said are not helping the government's efforts to contain COVID-19.
"We're already going through hard times, yet they commit crimes against their fellow Filipinos," Binag said.
Transportation Secretary Arthur Tugade appealed to the public to take only authorized modes of transportation to prevent the spread of COVID-19.
Tugade said there are health risks in taking illegal transportation being offered by trucking companies and the operators of colorum vehicles.
At least 79 people who tested positive for COVID-19 arrived in Bicol in colorum vehicles from Metro Manila from March 19 to April 2.
Tugade has called on law enforcement agencies and local government units to put an end to the so-called "COVID-19 smuggling" involving trucking companies that illegally transport untested people in the NCR Plus bubble.
"We will not move forward in our fight against COVID if we will violate quarantine protocols. Let us not be a vector for the spread of COVID-19," he said.
In response to Tugade's appeal, Justice Secretary Menardo Guevarra ordered the National Bureau of Investigation to look into the illegal transport of passengers to and from Metro Manila.
Contact tracers
Meanwhile, the Department of Labor and Employment (DOLE) is readying to deploy at least 4,000 contact tracers in Metro Manila and nearby provinces.
Karen Trayvilla, DOLE Bureau of Workers with Special Concerns director, said P205 million has been earmarked for the salaries of contact tracers.
"Initially, Secretary Silvestre Bello allocated P205 million for 12,000 contact tracers, but we are looking at reducing the number of workers to give way to the request for them to work for more than a month," Trayvilla said at a press briefing. "Hopefully by next week, we can start the hiring of contact tracers."
Aside from NCR, Trayvilla said the contact tracers would be deployed to Central Luzon and Calabarzon.
The contact tracers will receive over P16,000 for 30-day work. They will undergo two-day training prior to deployment.
Under the TUPAD program, the contact tracers are supposed to work for four hours only for 10 days.
Trayvilla said the DILG and Metropolitan Manila Development Authority requested that the program be extended to three months.
If the program will be extended to 90 days, Trayvilla said the DOLE could only pay not more than 4,000 contact tracers. – Evelyn Macairan, Richmond Mercurio, Mayen Jaymalin, Emmanuel Tupas