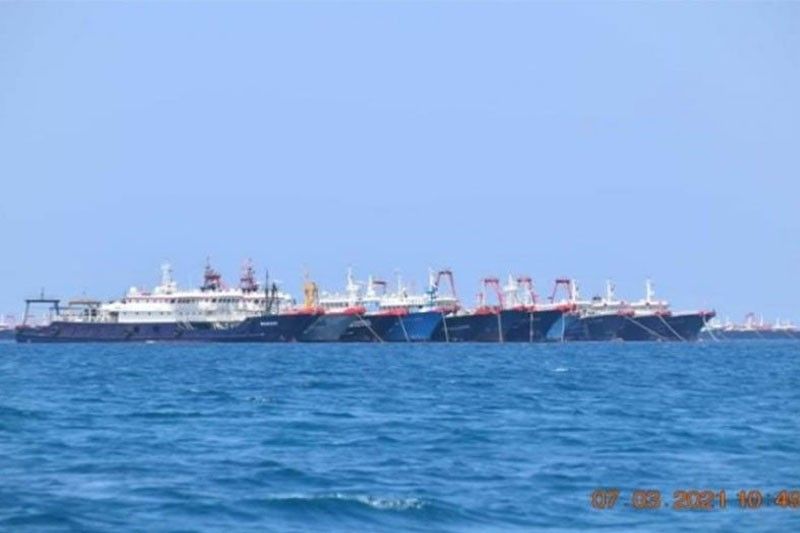 This March 7, 2021 photo shows Chinese maritime militia ships moored in line formation at the Julian Felipe Reef in the West Philippine Sea.
NTF-WPS
Philippines files new diplomatic protest vs China over boats
MANILA, Philippines — The Department of Foreign Affairs (DFA) yesterday filed another diplomatic protest against China the second in two weeks as Chinese maritime militia vessels remained in Julian Felipe (Whitsun) Reef in the West Philippine Sea.
"Firing another diplomatic protest. Everyday till the last one's gone like it should be by now if it is really fishing," Foreign Affairs Secretary Teodoro Locsin Jr. tweeted, vowing to file a protest daily as long as Chinese ships are in the reef.
The DFA is also considering expelling the spokesperson of the Chinese embassy in Manila for calling Defense Secretary Delfin Lorenzana's demand for withdrawal of Chinese ships as "unprofessional."
China said on Tuesday that it has no plan of maintaining a permanent presence in Julian Felipe Reef.
"China has no such plan," Chinese Foreign Ministry spokesman Zhao Lijian said, adding that the arbitral tribunal's award in the "South China Sea arbitration" is illegal, null and void. He also accused the Philippines of attempting to negate China's rights in "traditional fishing grounds."
Meanwhile, Deputy Speaker Rufus Rodriguez called on Washington to conduct more frequent freedom of navigation (FON) operations or patrols in the South China Sea, including the West Philippine Sea, to dissuade Chinese ships from overstaying in the area.
"Two FON patrols in more than three months. They should crisscross that area more often to challenge China's claim over most of the South China Sea, including international waters and a large part of the Philippine EEZ," Rodriguez suggested.
He said the country should also try sending its Navy ships to the area to show China that the Philippine government is dead serious in defending its sovereignty. – Delon Porcalla