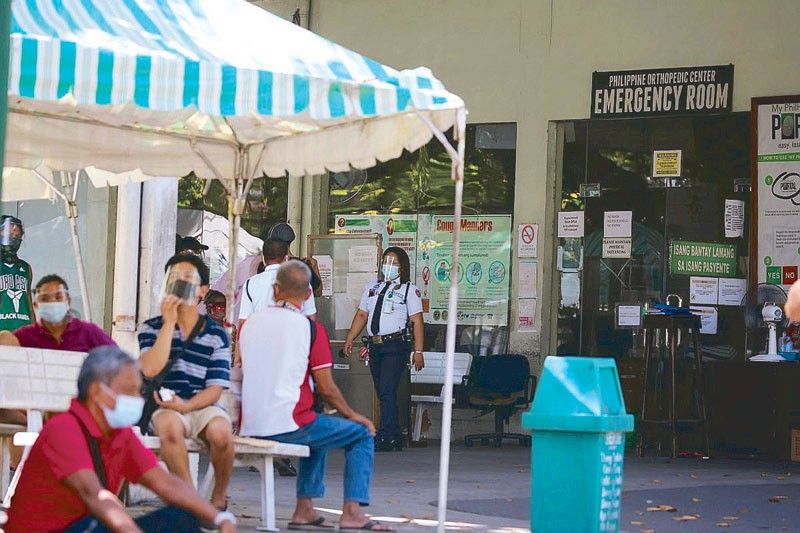 Patients wait outside the emergency room of Orthopedic Center in Quezon City as the employees' union reports that 117 out of 180 health workers have tested positive for COVID-19.
Boy Santos
Orthopedic Center shuts OPD as COVID-19 downs 117 personnel
MANILA, Philippines — The sweeping transmission of COVID-19 among its staff has forced the Philippine Orthopedic Center (POC) in Quezon City to operate on limited capacity.
In a statement issued yesterday, the POC said out of 180 of its personnel who took the swab test, 117 have turned out to be positive for COVID-19.
"With a range of outpatients between 350-450/day and the increasing positive rate of COVID patients, 117 out of 180 swabbed staff turned positive," the hospital's officer-in-charge, Dr. John Andrew Michael Bengzon, said.
It means the hospital is left with only 63 personnel to take care of 12 COVID-19 patients and 216 non-COVID-19 patients.
Due to limited manpower, the POC has temporarily shut down its Out-Patient Department or clinics. All "elective surgeries or operations that are not emergency" have also been suspended.
"The emergency room remains open only for orthopedic emergency," the hospital said.
So far, the incident has been coordinated with the One Hospital Command for the need of infected staff members to be placed in quarantine facilities.
Bengzon said at least 36 of their staff were transferred to quarantine facilities as the 40 beds they had set as a COVID-19 ward for their employees have been full since April 2.
The POC said the swabbing of hospital personnel will continue until April 7.
Meantime, patients are encouraged to seek consultation with their doctors through "Online Teleconsult" at the POC's Orthopedic Surgery OPD page on Facebook.
The POC underscored that health and safety protocols, such as disinfection and crowd control, are being done.
"The POC would like to appeal to the public to continue to self-quarantine as the pandemic has affected so many," Bengzon said.
The hospital also appealed for more supply of personal protective equipment and face masks so that its staff could double mask for added protection.